Apologies for such a lengthy radio silence, only for us last year kicked off early and didn't stop until last orders.
There was a couple of movies and then a long stint on season 5 of HBO's Game of Thrones which was fun. If you watch the show, you will no doubt imagine the kind of work involved, and it kept me busy as part of a pretty big crew.
To see some 'behind the scenes' stuff of season 5, check out the documentary on YouTube.
Todd and I have been chatting, and as we both let the blogging slip because of work we are back with a plan to do more podcasts to give responses to email questions on a regular basis.
Todd has been swamped in theatre stuff, notably productions of Shrek and Pinocchio – both with huge makeup challenges given the live performance nature of theatre. No change for a second take or touch-ups!
So, we caught up in this podcast to get the ball rolling again – listen here or download it from here to listen to later. It was recorded on Friday 13th….so it isn't about the movie Friday the 13th, so sorry to the Michael Myers fans…..this time we're talking plaster heads and master moulds, plastiline and apps to help design.
---
To listen to the podcast, you can stream or download from here, or simply subscribe through your favourite podcast app – we are on many, including Spotify, Apple Podcasts, Soundcloud, IHeartRADIO , STITCHER , Luminary and Google Podcasts.
---
Plaster Heads
One thing I realised is that to make blog posts (and of course especially videos), I really need to make something which of course takes time. Last year was so solid that there really wasn't any spare time to make much, and when the trade shows rolled around, I had prepared much at all.
So this year I am making a few character makeups to give me deadlines and spur me on just like my normal work life.
To that end, I did a full head cast of Emma Procter, a fantastic trooper who I met in the workshop last year. The cast was done in silicone (I tried Go Cast by PS Composites which worked great) and I had the help of Julia Plant and David Brown, two folks who have worked with me in the past and who I trust implicitly.
The plaster head from this silicone mould was cleaned up (the odd air bubble and the bulk of hair from the bald cap shaved down) and fitted to a base board, made level and smoothed out at the base to make it smooth, solid and ready to master mould.
On Instagram? Be sure to check me out as often live updates will get posted fresh from the workshop.
Plastiline
Plastiline is the main material used to sculpt appliances.  Essentially it is a wax based clay which doesn't dry out, much like Plasticine that kids play with.
There are different brands with different qualities, and like anything where there is choice, people prefer different things and it can seem confusing when you start out.
One make which is popular is Chavant, which make a number of plastilines in different softnesses as some people have stronger fingers or prefer a softer clay. They also make harder types for sculpting things with sharper detail.
One benefit of plastiline is that being a wax-based material, it softens with heat and hardens with cold. This being the case, the temperature of where you work is a consideration. Blazing hot summertime? Plastiline will be soft in the heat. Freezing cold because of a rubbish central heating boiler or excess of air conditioning? Then you find that plastiline will be firmer.
Another plastiline which is popular is Monster Clay, which is a great plastiline and comes in a tub which is microwaveable for easy reheating. Thoughtful! Many FX suppliers stock it, so try some if you fancy a quality sculpting material which is endlessly reusable. The grey is excellent!
In the UK, a lot or workshops use a grey or ivory coloured plastiline from 'J. Herbin'. It comes in different grades and the lower the number, the softer it is. 50 and 55 are the most popular but there is a 60 which is harder and a 70 which is harder still. Jacobson Chemicals and Neills Materials supply it in the UK, so hunt around for stockists.
Appsolute Idiot
I'm am not a great creature designer.  The reason I know that for sure is because I know personally some great designers who can do it and trust me….I can tell.  That's not to say I can't create something from a design given to me – making isn't the issue.  It's coming up with the initial concept which I find difficult.  If you are the same then here is a little tip that could be helpful.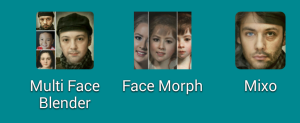 I had an email from someone who wanted advice about doing a human/ape hybrid makeup.
I figured, as such a well-trodden path that it would be tough to do something which would stand out. It occurred to me (given that I didn't know the design ability of this person) that a good way to get started may be to use a morphing app.
I figured if you get an image of an ape you like from somewhere, and then took a picture your subject at the same angle, you could use a morphing app to create a series of images which would essentially do some of the work for you.
By selecting a satisfactory mid-range image of the transformation, you can get a rough idea of what the face would look like at varying percentages of ape-ness. Although the image it creates won't be perfect by any means, it certainly can give a solid starting point from which you can start blocking out a rough design.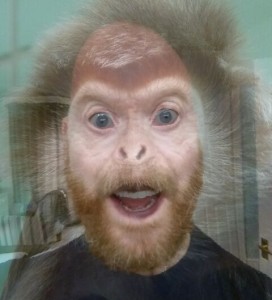 I find this almost always gets me over that initial hump of starting out – once there is something there it can gain momentum. I think a decent app can provide that starting point, and it doesn't take any creativity to get going. If like me you have creative blocks at the start, it can be a real lifesaver.
Try it with other creatures/animals/insects/sealife and see what turns up. It's a little like rolling 'design-dice' but there aren't any expensive consequences.
---
Many thanks, as always, for your time checking the stuff out. You can email us directly at stuartandtodd@gmail.com or leave us a voice message on our site.
If you enjoy this podcast and got something out of it, would you do us a solid and tell just one more person about us? Send them a link and help us grow!
–Stuart & Todd
To listen to the podcast, you can stream or download from here, or simply subscribe through your favourite podcast app – we are on many, including Spotify, Apple Podcasts, Soundcloud, IHeartRADIO , STITCHER , Luminary and Google Podcasts.