Geoff applies the iconic 'Pinhead' makeup.
It's just me today as Todd is pretty sick with a bad cold, so get well soon Todd. Hope you get fixed up and back on track soon, fella!
We've got a great interview with someone who was the first person I ever got in touch with. Geoff Portass started Image Animation with business partner Bob Keen, and the company worked on some iconic genre movies and shows in the late 80's and early 90's. They also spawned the careers of some of the best known fx artists working today.
---
To listen to the podcast, you can stream or download from here, or simply subscribe through your favourite podcast app – we are on many, including Spotify, Apple Podcasts, Soundcloud, IHeartRADIO , STITCHER , Luminary and Google Podcasts.
---
I still have my letters from 1990 when Geoff replied to my questions when I was 16! I sent foam samples of foam latex I had made at home and asked about the makeup they used and replied every time.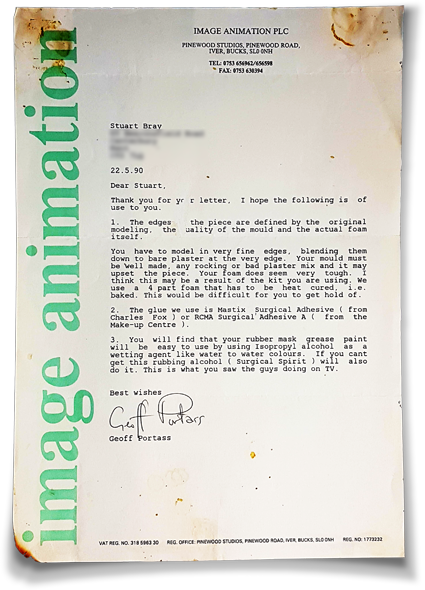 I also remember meeting Nick Dudman at my college in 1993, when I basically cornered him for half an hour and asked him all these questions that nobody else could answer – pre Google etc.
(I then went on to work for Nick on a few Harry Potter and Mummy movies.)
Anyhow, I drove up to Geoff's place and we chatted for a good few hours and I had to split this into two podcasts, as there was so much material and it seemed to fall into two logical topics – the film stuff and the teaching stuff. So, this is part 1 which looks at the film stuff and the next episode will be looking at the teaching stuff too.
---
Many thanks, as always, for your time checking the stuff out. You can email us directly at stuartandtodd@gmail.com or leave us a voice message on our site.
If you enjoy this podcast and got something out of it, would you do us a solid and tell just one more person about us? Send them a link and help us grow!
–Stuart & Todd
---